Who We Are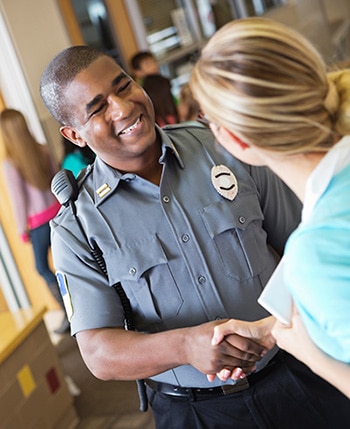 Stratton Security is a licensed security company with over 18 years of law enforcement, 18 years of military, 15 years of private security, and 25 years of hospitality in high-level management experience. We have spent decades of our time to provide excellent customer service that has earned us a flawless reputation. We are an incredibly versatile company that focuses mainly on our clients and employees. We have a diverse team of licensed and certified professional security officers who are ready to protect and assist your properties. We also offer private protection and can create a personalized service for our clients. No matter how large, small, or challenging the task is, we are always there to help.
In today's world, businesses and organizations often face a massive crisis in providing a safe and secure environment for their assets, employees, visitors, and tenants. The challenges come in many different types of threats such as criminal activities, business interruption, property loss and damage, workplace violence, terrorist attacks, liability exposure, and any other issues that can threaten the safety of the corporation. If these issues are left unresolved, it can lead to thousands to millions of dollars in damages to your company and your reputation. Fortunately, there is a top security guards company in Dallas that can assist in providing you with a maximum protection for your company.
Our Philosophy
We believe that every customer; regardless of size or budget, deserves a professional and a high-quality security service that can offer them a peace of mind. Stratton Security Services in Dallas has become a recognized leader in the security industry in Texas. Although we have enjoyed tremendous growth and success over the years, our philosophy lies in the fact that every client deserves maximum security will always remain the same. When you know that your security system is operating at an optimal level, you will be able to focus on other more critical issues like expanding your business. The expansion essentially means that you will be able to perform at a higher level when you are confident about your security partner to provide you with the proper protection and security that your company needs. At Stratton Security Services, the high level of performance usually begins with a personalized approach with our clients to understand their specific security requirements.
Professional Management Team
Stratton Security Company has a professional management team that contains security guards with security, military, and law-enforcement experience. Our leadership emphasizes the idea of putting those years of experience to work as they sit down to talk to you and get to know your needs and assess your vulnerabilities. That way we can provide you with the best recommendation that is under your budget. Once we implement your personalized plan, our management team will continue to help you through every step of the way. When our clients need us, they can conveniently reach our team and get the help that they need. Our clients have known and trusted us for years, and we want to build that kind of relationship with everyone who comes to us for help.
Diverse Services
We have a diverse array of services that can meet your needs. We have services that can provide you with uniform security guards to secure the parameters from danger. Our other services also include an initial assessment to check if your current security system is working properly and efficiently. We provide several security services and strategies that you can choose from. We can help you pick the plan that works for your organization; our one on one consultation can help strategically find the perfect solution to protect your property and business.
Our approach to maximum security is unique comparing to other security companies in DFW. Our highly trained officers will have to go through a concierge and hospitality training course to add a touch of class and elegance to all our services. We want to make sure that we provide the top-notch, red carpet service to our clients. We want to maintain a reputation that we are the people's people through years of experience in diverse settings such as hospitals, offices, or buildings. We always provide five-star customer service and outstanding performances. We know that our high-level security service in combination with our excellent hospitality can provide tremendous value to your property. After all, you have worked hard to build your empire, so let us take the initiative to protect it from any harm.
Stratton Security provides armed and unarmed security officers 24 hours a day, 7 days a week.
Call us today and schedule your FREE Security Assessment!
CALL: 1-866-489-9919‬